Swimming with wild Dolphins – The Red Sea, Egypt
Dream holidays to remember - making your dreams come true!
Come and join us swimming with dolphins in the calm turquoise waters of an offshore ocean reef in the Red Sea, Egypt. Swim with dolphins that are friendly and curious who live on the coral reef.
Our trips are based on the red sea coast of Egypt in a lovely beachside eco-village resort ( 7 nights with day trips to the dolphins) OR a mixture of 5 nights at the resort and 2 night cruise on our boat safari.
We do NOT offer just dolphin excursions as the experience is part of a week package including accommodation near the dolphins habitat.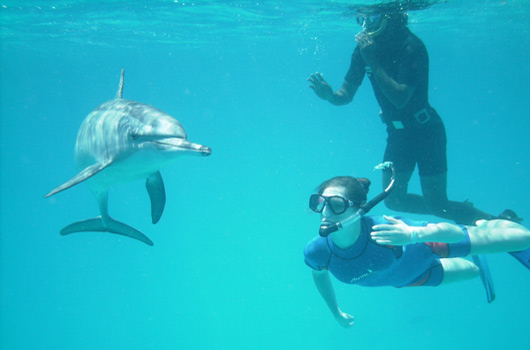 Come play with these wild dolphins
Swimming with these dolphins is an amazing and magical experience of joy and delight as they are very playful and interactive with the swimmers. They lead the interractions and we actively discourage guests not to chase or disturb them in any way. They are very curious and we wait for the right mood when they approach us.
Our local guide free dives with them and they love his underwater acrobatics! You can watch from the surface as they swim alongside you or play with them by swimming with dolphins underwater. This area of Egypt is far away from mass tourist resorts and our ethos is not to negatively impact the dolphins' natural behaviour or habitat. We follow strict guidelines that respect the dolphins. We want to preserve this area of the Red sea and work with our business partners to develop a more sustanable, responsible tourism in Egypt.
All swimming with dolphins interactions are on the dolphin's terms. We let them approach us and do not disturb them when they are resting. They hunt outside in the open ocean at night and return to the protected calm waters of the reef by day to rest, play and socialise.
We use only environmentally responsible operators in Egypt and The Red Sea and offer our guests expert guidance in developing confidence and safety in the sea.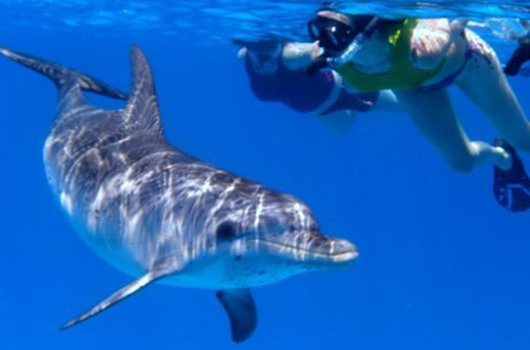 Relax
You can also snorkel around the beautiful Red Sea coral reefs with the brightly coloured fish before returning to the boat to relax on the decks, take a siesta, sunbathe and enjoy the freshly prepared food from the on board chef. Enjoy the sunsets from both boat and the beach.
When not on the boat, there are many extra activities to enjoy such as desert camel rides, souvenir shopping and visiting the ancient monuments of Egypt such as Luxor and Karnak.